….Inquiry is purposeful and authentic…..

(PYP: from Principles into Practice. Learning and Teaching. Page 40)
I have received this book in the middle of December. I have been waiting for this as I joined the 'Concept-based Inquiry in Action' workshop in April 2018 which was led by the author, Rachel French.  Since then, I have been trying to implement my takeaways from the workshop.
While reading the chapters in the book, I stop many times and take some time to think about my own practice and what I hear from others about inquiry.  Yeah..yeah, we are doing it.  Are we?  Are we doing it in the right way?  Is there a right way to do inquiry?  Hmmmm….
This morning (I woke up way too early), I browsed and found Kath Murdoch's post about this topic.  Why is inquiry such a big topic in education?  Why, till now, do people still argue and think differently about inquiry?
'Inquiry' seems to be like a fancy word for many educators. Many of them do share their frustration about implementing inquiry-based learning in the class.  I am not sure if fancy is the right to describe.  But I do feel (I may be wrong) people use the word 'inquiry' as a 'decoration' – whether they 'really' do and mean it or just 'say' it so that it sounds 'sophisticated'.
'But…we have no time. What about learning outcomes A, B, C…etc.?'
'But…. the kids seem not to be ready.  It's a mess.'
'But….we have lists of skills and knowledge in our curriculum that must be covered.'
'I am doing it when there's enough time.'
'Yes, I do inquiry-based.  The kids  do whatever they want.'
'Ooo yes, I do that.  There is free-choice time and the kids can choose what they want to do.'
…and many more 'buts' and excuses/arguments which I am sure we've heard…or even said.  Every time I hear such responses, I wonder if they have a clear (conceptual) understanding of what inquiry is.  Without judging the responses, perhaps getting their definition of inquiry right first would be beneficial in order to have a further and deeper discussion.  This reminds me of my post about clarifying what inquiry means.
Types of Inquiry
There are many posts and some visuals about the different types of inquiry.  Let's take a look at a few of them that have been posted on social media.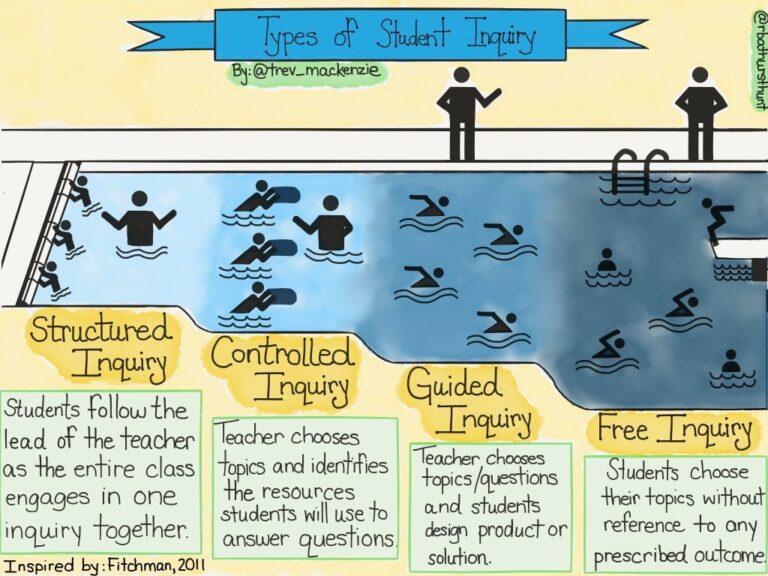 With these 3 visuals, what do we see-think-wonder? What can we say about each type of inquiry?  What's the role of teachers and students in each type?
After exploring different types of inquiry and reading what it means, works, looks like, etc, do we still think about inquiry in the same way? Do we still think that we have no time to do inquiry?  Do we still think that we are doing inquiry by giving freedom and let kids do whatever they want? Hopefully….NOT!
'…..If we let children investigate their questions without helping them connect to transferable ideas, could we be confident that they would move beyond the facts to achieve deeper understanding?….'

Concept-Based Inquiry in Action

(Marschall and French, 2018, p-1)
'…. inquiry is about investigation. It occurs when the learner seeks to discover/resolve/create/uncover/understand something….'

'…..When understood deeply, Inquiry-based learning has always been about agency….'

-Kath Murdoch-
Going back to the responses that we may have heard/said before about inquiry, it's essential to have a clear understanding in order to construct our own definition about inquiry as this may help us to re-think about our thoughts and teaching and learning process.
Our Roles and Responsibilities
As educators, we may want to revisit, rethink our roles. When do we 'let go', 'step-back' and let the learners take the lead of their learning?  When do we decide to 'walk along with them' or to 'let their hands go and let them walk in their paths'? When do we support them with knowledge and skills which eventually would increase their confidence to apply them? When…..?  We are teachers, mentors, facilitators, observers, ….we decide.
'…..being 'an inquiry teacher' does NOT necessarily mean using an inquiry approach for EVERY lesson. Across the teaching continuum, each approach serves a different purpose. As educators, we must MAKE intentional choices about when to use them……'

Concept-Based Inquiry in Action

(Marschall and French, 2018, p-9)
Do you feel guilty for not doing inquiry in your class?  Do you feel that you are a bad teacher because you 'feed' students? Perhaps…..you don't have to feel that way.  We, teachers, should be wise and knowledgeable in making the decision on how the teaching and learning process should be done.
It is our responsibility, as educators, to address academic standards and ensure the delivery of a well-articulated, coherent curriculum, (…) Teachers make choices about the kinds of inquiry most appropriate for their students and for the content under study. 

-Concept-Based Curriculum and Instructions for the Thinking Classroom-

(Erickson, Lanning and French, 2017, p-89)
Additional Reading: What do Inquiry teachers do?
From Structured to Guided Inquiry – The 'Change' in the PYP Scope and Sequence Documents
As my colleagues and I are working on developing our curriculum, we've been gathering information and resources that we can refer to throughout the process.  As well all know, the transition of the enhanced PYP is going on.  The updated versions of the IB PYP scope and sequence documents are available on MyIB platform under the Programme Resource Center (PRC).
These screenshots show one aspect of the changes that have been made in the IB PYP subject specific scope and sequence documents.  As I went through all subjects scope and sequence documents, I noticed that there is a slightly different in the type of inquiry.
'….The PYP emphasizes guided inquiry as a leading pedagogical approach. Guided inquiry scaffolds students' cognitive processing, supporting them to gradually learn and construct more complex understandings….'  (Hmelo-Silver, Duncan, Chinn 2007)

Inquiry in the PYP. Page 41
We may want to take some time to think and reflect on our current teaching and learning practice.  HOW does this shift affect how we plan and teach? What does this mean for our students?  Again…we should have a clear understanding of inquiry in order to reflect, reform and replan our practice. The decision is in our hands as educators.
As it's written at the beginning of this post, inquiry is purposeful and authentic.  I believe, whatever type of inquiry we do, it should be purposeful and authentic.  There is no special formula to do inquiry in the right way.  There is no 'one size fits all' approach in inquiry.  It's about the process, the roles, the responsibilities and the most important part is….. it's about the learners' learning journey – the students….and the teachers.